PSA: There are only 11 days left until Christmas. Jewish friends, you only have two days left until the first day of Hanukkah. It's time to knock out your last minute holiday shopping.
Of course you probably intend to shower the people in your life with books and book related gifts. Why wouldn't you? After all, if they don't want a book, do they really deserve a gift at all? It's a serious quandary.
But sometimes it's hard to know what books your reader friend wants, hasn't read yet, or would want to own (limited shelf space and such). So as a service to you, I thought I'd offer up some sure-to-please light reading options and accoutrements to help you cross those names off your list. I stayed away from novels and nonfiction titles to offer up some different ideas that should appeal to a variety of bookworms.
Underwater Puppies and Underwater Dogs by Seth Casteel
These are books full of pictures of dogs/puppies underwater. They are hilarious and adorable. Put 'em on the coffee table or keep 'em on the desk at work to cheer you up on hard days. Also a great gift for friends  that really want a puppy for Christmas but aren't going to get one. NPR did a great interview with Casteel–read the article to see more great pictures from this book.
Texts from Jane Eyre by Mallory Ortberg
You might have seen this book on Buzzfeed recently when they did a fantastic post on literary breakup texts. Ortberg imagines passive aggressive, clever, and strange texts between famous literary figures. It's based on a successful blog feature and looks absolutely hilarious. It's also for sale at some Targets and Walmarts for all you super procrastinators.
Lost in Translation by Ella Frances Sanders
I received a copy of this book for free through the Blogging for Books program. Like the subtitle so succinctly states, it's an illustrated compendium of words from around the world that are untranslatable. It's a beautiful book (sitting on my coffee table right now) and fascinating to look through. My favorite word in the book is the Japanese word Tsundoku: n. Leaving a book unread after buying it, typically piled up together with other unread books.
Moleskine Booklight
This booklight lies flat and folds into a light when needed. It comes in seven fancy colors and has the added benefit of being a Moleskine product. Now, I know what you are thinking. So what? What makes this booklight special? Well, I'm glad you asked. It's rechargeable! You can plug it into a USB port to recharge the light, no batteries needed. It also strangely looks…friendly?
Judge away, all you judgmental judgers. I refuse to not be excited about these. THEY ARE BOOK SCENTED CANDLES. Do you see "The Headmaster's Office"? How about "The Shire"? And not to mention "Bookstore"! They also have old book scents, Sherlock scents, Jane Austen scents, Princess Bride scents, and various Dr. Who related scents. This is a completely ridiculous gift. I laugh just looking through the Etsy shop because it's such a hilarious concept. But I also want them all. (Also available as meltable wax blocks for Scentsy warmers and the like).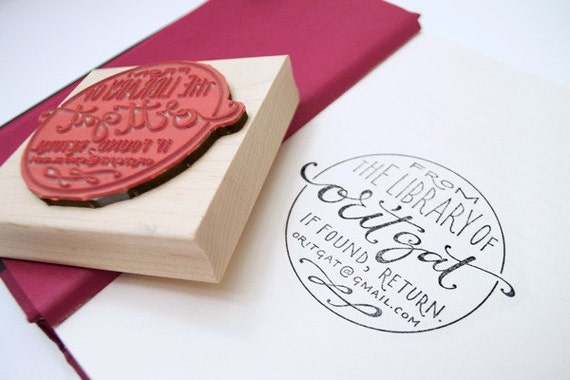 Custom Library Embosser or Stamp
If you are new to the blog and wondering what kind of reader I am, this should be evidence enough to you that I am a proud book nerd. The embosser pictured above (the Shiny handheld model-EM, thank you very much) is what I bought myself as a wedding present. Yup. The stamp is another good option as well. A custom embosser or stamp makes for a really great gift for the reader that has everything.
Of course, you can never go wrong with shelves. I've been the lucky recipient of invisible floating bookshelves in the past, which have the double benefit of being great shelves and making me look like a magician to visitors.
Hopefully that gives you some good gift ideas for your favorite bookworm (ahem). What books or book related things are you hoping to receive this Christmas?